If you are hosting an event for the first time or you plan many events throughout the year, the main goals are always the same. You must make sure every detail is attended to and of course you want everything to turn out better than you had expected. You also want the guests to be so happy and delighted that they will always have a fond memory to carry away with them. Our Event Coordinator will skillfully guide you through the many choices and options available to make this day a true reflection of your style and taste.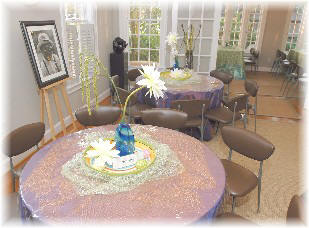 The Groovey Grill Mansion focuses on this philosophy whenever presented with a new project. Whether the occasion is a large function or a small intimate celebration, your event will be handled with the kind of care and expertise that can only be learned from years of dedication and experience.
Reward your employees with an office gatherings for a job well done, plan the perfect Holiday event or let us offer you the family reunion, amidst the natural beauty of our grand estate. Combining The Groovey Grill Mansionís natural beauty with our gracious staff, we'll see to every detail and add a personal touch to your event!
The Groovey Grill Mansion offers full service social event planning. Be a guest at your own event and call us today.